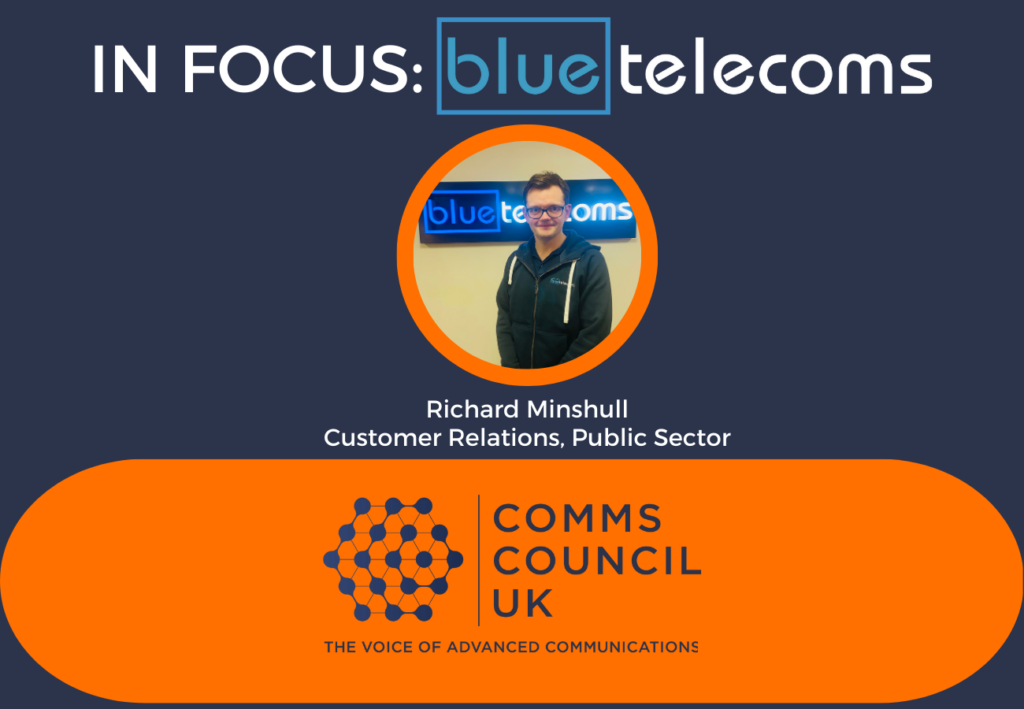 What is your name and your organisation?
Richard Minshull, Blue Telecoms
What is your role at Blue Telecoms?
Customer Relations, Public Sector
How long have you been working for Blue Telecoms/been in the industry?
Two years.
What is Blue Telecoms' USP/key focus areas?
Ours is a truly boutique experience, in that we personalise, customise and tailor our customer's solution to every project, regardless of complexity or size. Leveraging on many years of experience within the industry, there are very few problems we can't solve. Blue Telecoms prides itself on being able to help our customers over the line.
What achievement is Blue Telecoms most proud of?
When the Prime Minister announced a full lockdown, there was a lot of uncertainty in the industry. Our customers needed a fast solution to enable the sudden working from home of tens of thousands of staff.
We were able to do this by providing VPN and remote desktop workstations on our existing infrastructure, within just a few days of the announcement. This allowed businesses all over the country to continue operating with their workforce at home. It was a new experience for us, but it was a sense of achievement and pride to know that we helped ensure part of the industry was able to continue.
At the time, there was a lot of concern among thousands of employees who use our services. We are proud to say that we helped ensure that businesses could continue and that their employees were still able to work and get paid. Even today, customers continue to use the service that has enabled them to recruit from a wider geographic base.
What are the key trends that you are experiencing currently in the market?
As customers become increasingly dependent on various forms of communication, our customer base consistently presents us with new challenges related to integrating and partnering with different service providers through voice data services and API integration.
At Blue Telecoms, we strive to meet these challenges and our technical team is always excited to tackle the unique requirements that our customers bring to us. Gone are the days where it was solely about voice calls, we are now in a digital era where customers expect more and we are ready to deliver.
What do you see as the main industry challenges at present?
With the advent of remote working, secure voice communication poses specific networking challenges. Having worked with a number of customers, security is always a challenge with a disparate workforce. Blue Telecoms has risen to this challenge by working on secure voice termination services.
If there was one thing in the industry you would change or want to resolve, what would it be?
Telecoms is full of acronyms; DDIs, DNIs and CLIs… not to mention IVRs! These can all mean something different to the locale of the customer you are speaking to. I wish we could all standardise terminology!
What opportunities do you foresee for the sector?
AI (think ChatGPT) is poised to revolutionise customer service and the first point of contact. This might lack a little in human empathy. Either way, it's coming, and as an industry we need to lay the foundations to embrace its potential.
What benefits do you get out of Comms Council UK membership?
Comms Council UK is invaluable in terms of the knowledge, friendship and building links to industry leaders with a wealth of experience it provides. Joining Comms Council UK is a great way to stay updated on the latest industry trends and be part of a community of like- minded professionals.
Knowing that a potential vendor or business partner is also registered with Comms Council gives us the assurance that they'll conduct business to the same high standards that we do.