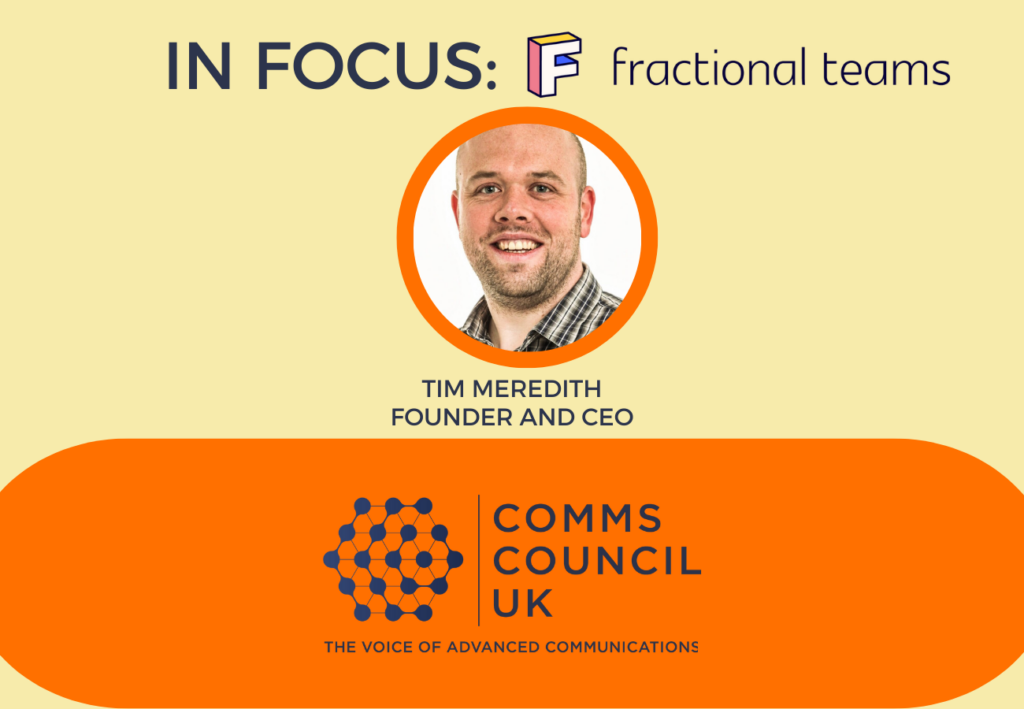 What is your name and your organisation?
Tim Meredith, Fractional Teams
What is your role at Fractional Teams?
Founder and CEO
How long have you been in the industry?
I've been working in the Telecommunications and MSP industry for almost two decades now, from my early days running ISP networks and SIP/VoIP platforms; to leading teams that built, marketed, and sold IT and Comms products.
What is Fractional Teams' USP/key focus areas?
We provide key strategic, commercial, and technical teams on-demand to help accelerate business growth and increase efficiency.
With marketing, product and CxO services, our clients don't have to commit to long-term or permanent staffing in a volatile market and uncertain world. With our in-house expertise, Fractional Teams is able to disrupt the classic agency model of overpriced, bloated services.
What achievement is Fractional Teams most proud of?
I think our proudest achievement was starting a business at the height of the pandemic and gaining the trust of multiple new clients whilst under lockdown in the first year.
What are the key trends that you are experiencing currently in the market?
Every service provider and vendor we work with is busy changing their strategy in an increasingly cloud-dominant world. There is an underlying concern for what happens to customers and revenue as Microsoft Teams growth shows no sign of slowing down.
What do you see as the main industry challenges at present?
Customer leapfrogging, as I call it. This is where the incumbent service provider, complacent with their long-held revenue streams, doesn't have visibility of their client's IT and communications strategies.
Rather than being upgraded to the latest version of the incumbent service provider's cloud-based solution or integration, the obvious path for an unengaged customer is to switch to the sometimes free or cheap, native voice and video capabilities now present in the IT Productivity platform.
What opportunities do you foresee for the sector?
Microsoft, whilst being a competitor to many, opens the door to new opportunities. Direct Routing and Operator Connect should be top of the list for SIP and ISDN providers today.
What benefits do you get out of Comms Council UK membership?
Comms Council UK membership is essential for us. It provides an opportunity to hear first-hand what our industry's leaders think and how regulation affects product and marketing decisions. It also provides a great networking platform to help each other through a pivotal moment in our history.