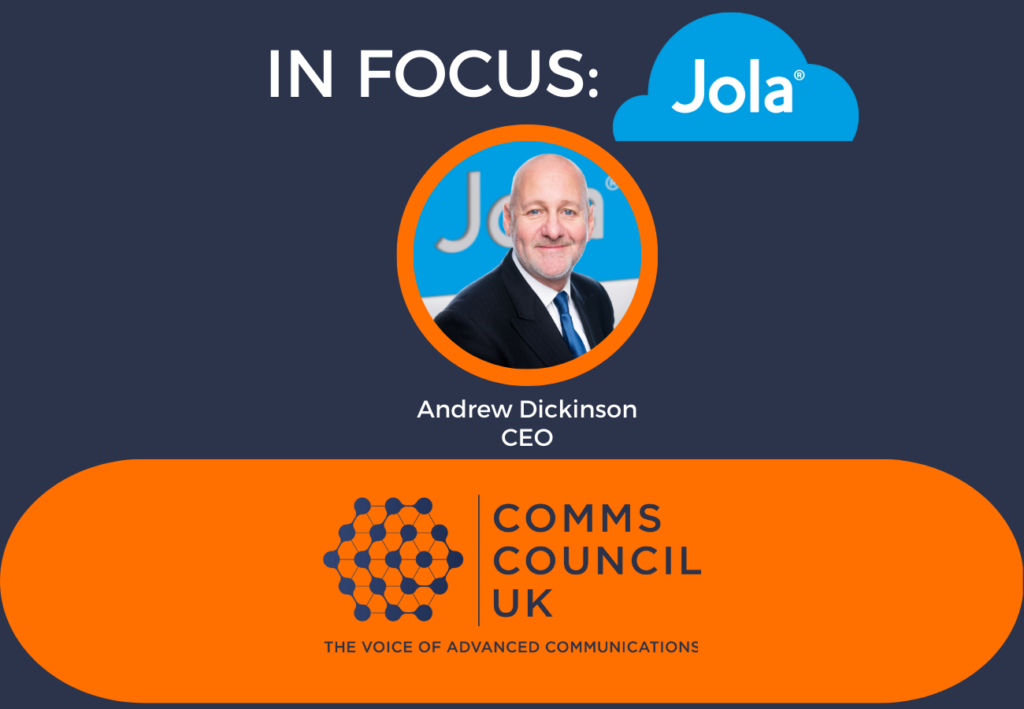 What is your name and your organisation?
Andrew Dickinson, Jola
What is your role at Jola?
CEO
How long have you been working for Jola/been in the industry?
I was a founding member of Jola which was established in April 2014 and I have been in the industry since 1984.
What is Jola's USP/key focus areas?
Jola is an award-winning, channel-only supplier of business communications, specialising in mobile data SIMs. We are a global MVNO, providing innovative IoT and mobile data solutions to MSPs, ISPs, IT support companies and telecommunications resellers.
We continually innovate to help partners win, and on average, we launch a new product/product extension every month. We offer differentiated, high-margin solutions which you cannot buy from the Mobile Network Operators directly. These are easy to order and manage globally in our real-time portal, Mobile Manager.
What achievement is Jola most proud of?
We were the first to market with a real-time automated portal and we continue to lead and innovate in this important area. Partners bidding to win mobile data opportunities for M2M and IoT solutions such as 4G SIMs in tablets in the public sector or MultiNet SIMs in smart water metres are being asked very specific questions about their portal. End-users want to know how real-time the data is and how automated the portal is. Mobile Manager meets these requirements.
What are the key trends that you are experiencing currently in the market?
Demand for M2M and IoT is a focus for Jola and our partners, as end-users need more than the Mobile Network Operators can offer them directly.
Mobile data is also a critical part of the PSTN/ISDN replacement portfolio. Resellers cannot 100% address the needs of their customers without a channel-only mobile data aggregator and we hope they will choose Jola.
What do you see as the main industry challenges at present?
Millions of PSTN lines won't be able to use a SoGEA or FTTP type replacement due to costs, incompatibility or logistical challenges. Mobile data will be a requirement for customers replacing PSTN lines for intruder alarm monitoring, call points and many other applications. We also manage our own SIP network and have developed a PSTN Replacement Toolkit for resellers to be able to service all the needs of their end-users.
If there was one thing in the industry you would change or want to resolve, what would it be?
The Government should insist on mast/site sharing as a precondition of bidding for mobile spectrum. So much time and money is wasted with the current system.
What opportunities do you foresee for the sector?
The sunsetting of 3G and indeed 2G has huge implications for the IoT market. There are millions of devices out there that only support 3G that need to be replaced. There are millions of SIMs that only support 3G, even if they're in devices that are capable of connecting to 4G. Some major sectors are payment processing terminals, vehicle telemetry/vehicle trackers, remote environmental sensors, digital signage etc.
This is a huge opportunity for our resellers not just to solve a problem but to save their customer money. The reality is that connectivity costs have come down significantly over the past few years. Of course, swapping hardware could be expensive but with solutions like the Jola Device as a Service, our partners can solve their problem without any CAPEX at all whilst delivering better performance and the latest features.
What benefits do you get out of Comms Council UK membership?
Being part of Comms Council UK enables us to gain access to the latest industry news including any relevant regulatory changes.