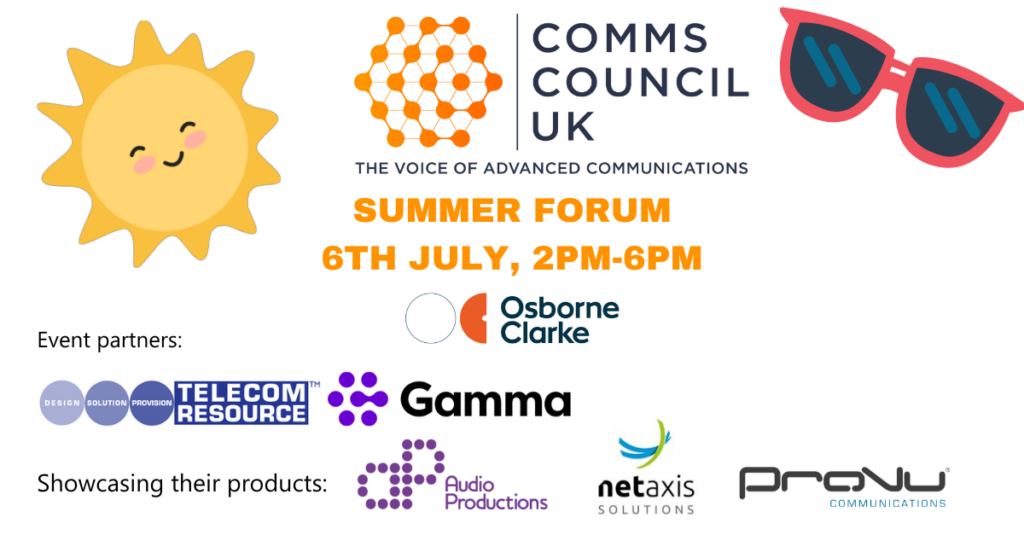 Our annual Summer Forum is taking place next week at the offices of our partners at Osborne Clarke LLP in London. The event will take place on the afternoon of the 6th July, and you can book your complimentary seats today.
The event will start at 2pm with the company's AGM, and we encourage all CCUK members to attend.
The Summer Forum will commence at 2.30pm and will include:
Welcome to the Summer Forum from Eli Katz (Comms Council UK chair) and Jon Fell (Osborne Clarke)
A market review and trends discussion with Dr Lucy Greeen (LARATO)
Overview of the National Security and Investment Act and an update for the telco sector on Russian sanctions – Dipika Keen and Kristian Asirati (Osborne Clarke)
Coffee Break
The PSTN switch off - An update from Sarah Shepherd - Head of Digital Phone Switchover at techUK
The DDoS threat - Lessons learned and the mitigation options - A panel session with David Cargill (Vonage), Colin Duffy (Voipfone), Nick Holland (8x8) and Alex Kinch (TelcoSwitch)
The sessions will be followed by a networking drinks reception on the sunny terrace!
The event partners are Gamma and Telecom Resource. Audio Productions, Netaxis Solutions and ProVu Communications will be showcasing their products during the breaks and reception.
There are still a few sponsorship opportunities to promote your company during this event, please contact team@commscouncil.uk if you are interested.