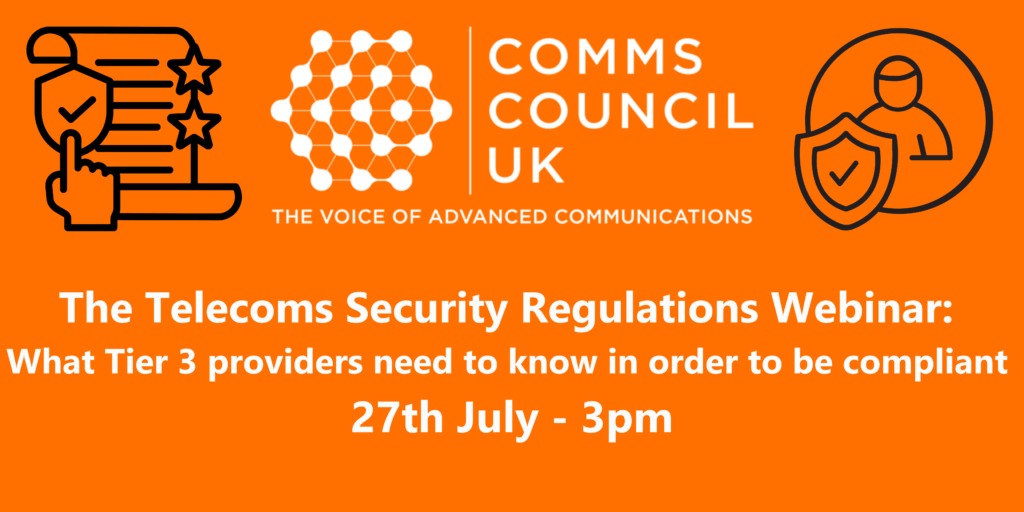 Following the session on The Electronic Communications (Security Measures) Regulations 2022 (TSRs), run by Osbourne Clarke at the Summer Forum, Comms Council UK is happy to follow up with a further session on this topic with our next webinar, which will be specifically focussed on Tier 3 providers.
Tier 1 and Tier 2 telecom providers have been offered clear and explicit measures and timelines to implement, in order to comply with TSRs in the form of the Code of Practice. All remaining providers, apart from micro-entities, with an annual turnover of less than £50m, are left with the succinct and vaguely worded requirements of the Regulations that came into force nine months ago, with no clear process to follow for compliance and with deadlines fast approaching.
This webinar, taking place on 27th July at 3pm will focus on substantive steps that these Tier 3 providers can take to comply with the Regulations, by following recognised best-practice guidelines, starting from a high-level information security governance programme integrated within business processes.
Hosted by Luci Stanescu, an information security professional with considerable ITSP technical expertise, this one-hour webinar will include a dedicated Q&A session. While the cybersecurity governance aspect is tailored towards key-decision makers, the invitation to attend is also extended to the those in the members' technical teams, who will be well-placed to raise questions related to difficulties encountered with security implementations.
Additionally, we encourage those that wish to read the Regulations and/or the Code of Practice, to raise any uncertainties and, in the spirit of open debate, discuss which one they dislike the most.
RSVP to team@commscouncil.uk to secure your spot.