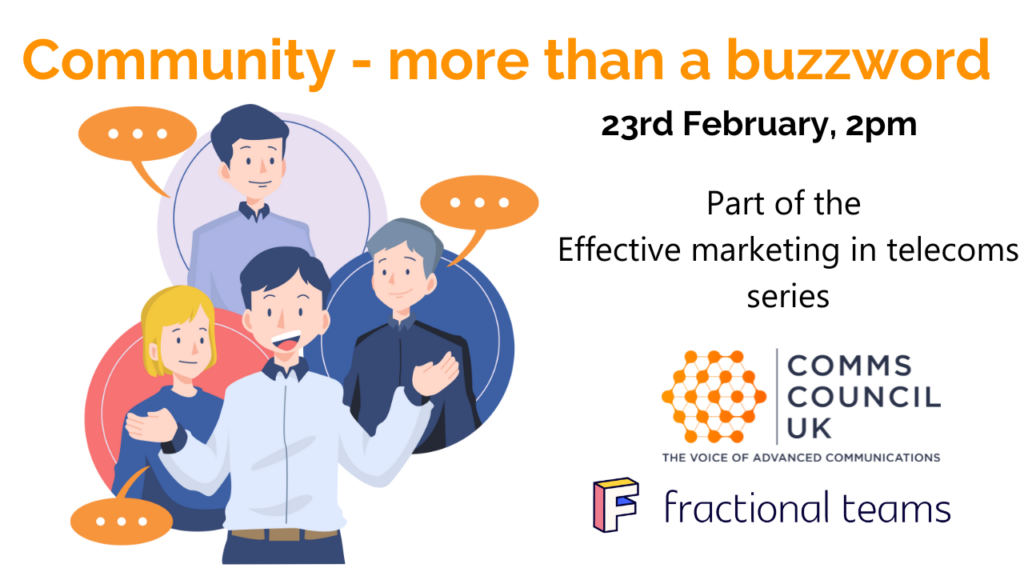 Building trust and demonstrating expertise are vital elements for B2B marketers trying to nurture productive relationships with customers and prospects. This is true for all types of businesses, especially in the cloud and communications market, where buyers sometimes struggle to understand some of the complexities of products and often their value propositions.
This doesn't have to be the case.
As associate members of Comms Council UK (CCUK), we jointly agreed to support our industry colleagues in enhancing their knowledge of marketing and sales by organising a series of webinars focused on "Effective Marketing in Telecoms".
On 23rd February, we ran our second webinar discussing the importance of building Online Communities and how they can help businesses connect with audiences more meaningfully. We filled many knowledge gaps about Community-building and dispelled a few myths along the way too!
We had a great time and would like to thank everyone who attended, but if you missed the webinar or want to recap what we covered, you can download the presentation with some bonus slides! We'll be making the video available shortly, so please stay tuned and don't forget to follow our page on LinkedIn for more useful advice and updates!