4th July 2018

BDO, 55 Baker St, Marylebone, London W1U 7EU
ITSPA AGM
The ITSPA AGM was held, with the re-election of the ITSPA Council including two new additions as we welcome Lee Turner and Matthew Kinver. ITSPA Chair Eli Katz led the AGM, with Financial Director, Colin Duffy, presenting the ITSPA 2017-18 financial report which was approved by those in attendance. The AGM further approved the number of Council members at thirteen, who will oversee activity in the coming year.
ITSPA Summer Forum
Dominic Black, Senior Analyst at Cavell Group, provided attendees with their annual market update on the telco sector. This highlighted a drop in the rate of SIP take-up (in part due to main areas already having transitioned) as well as the continued pace of mergers and acquisitions, with CPs looking to maximise reach into new markets. Some of these mergers were seen as positive by the wider industry, whilst others as potentially harmful to the current competitiveness and choice available.  Dom further spoke about the higher frequency of adjacent companies buying into the telco market to maximise complementary services through the sales chain. The wide use of freeware including Slack was also determined to represent a challenge to the market as businesses seek to integrate them into their businesses. The clear message was that businesses needed to differentiate to ensure they remain competitive in an evolving market. Cavell are carrying out their ongoing research into the UK Cloud Communications market at the moment, do get in touch with Dominic if you would like to participate in their research.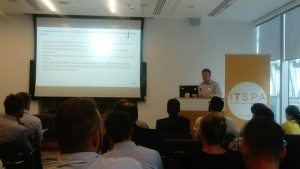 ITSPA's infrastructure panel, chaired by Jolyon Parsons, welcomed Simon Burckhardt (Vonage), Gordon Cannon (BT) and James Saunby (INCA) to discuss the rollout of FTTP and whether it represented a 'game-changer'. Panellists discussed the opportunities that would come from faster rollout of FTTP for consumers, something that was deemed vital for UK businesses to compete. From a service provider perspective, there was agreement that there was clear value-add in areas where full fibre deployment had already occurred. 'Altnets' were providing good routes to market for some ITSPs. The main issue was there simply needed to be faster deployment to take advantage of the various services (not just voice) that people were now using to communicate. The key challenge to fast deployment was incentivising rollout for network operators to ensure a decent ROI in a timely manner. The danger was that rollout would be very patchwork across the country, with little coordination. However investors were clearly eyeing the full fibre sector as an area of growth, based on Government objectives. The issues of industry contention would be mainly focussed on the wider transition to IP. This included a discussion on the current Ofcom consultation on battery backup for emergency services access, with major concerns from the audience on some of the implications. There was agreement whether some of the legacy TDM services were required and could potentially create barriers when offering services, purely over IP.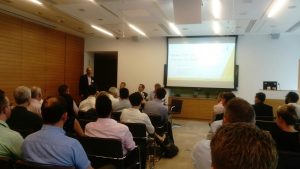 Gordon Cannon, Head of All-IP Migration Strategy and Numbering at BT, presented a session exploring number porting and a R&D project that BT were sponsoring on the use of blockchain as a potential solution to the current industry system. The aim would be to provide Ofcom with an alternative option (as opposed to a central database) that would help tackle  other issues (such as number range holding, nuisance calls, fraud etc).  The idea is currently at proof-of-concept stage, with a plan to share findings as the concept develops both with the regulator and the wider industry. Gordon was clear that it was by no means the definitive answer but wanted to seek some form of alternative solution. He indicated that Ofcom were very receptive to the concept. The aim would be for Ofcom to own the project if it was deemed an appropriate option and for industry input to see whether this was a viable option. There was positive feedback from the initial range of questions ranged by members. The intention would be for Gordon to come back in the coming months for a future demonstration of how the use of blockchain may help to resolve this ongoing issue.
Danny Preiskel, Senior Partner at specialist technology/telecoms law firm Preiskel & Co, presented to the forum on the upcoming changes to Ofcom's General Conditions in October. This included the major changes regarding numbering and the ability of Ofcom to withdraw number ranges that were not used. He also highlighted the main consumer protection developments including CLI enablement, the development of a complaints handling code (with prompt access to ADR), amendments to existing contract regulations and measures to beef up protection for vulnerable consumers.
Stephen Charko from Gartner provided attendees with a comprehensive insight into the use of AI within the ITSP community and the potential future opportunities to maximise on the use of AI in business practices. Although he referenced the innovative deployments of Telefonica, Vodafone, Orange and others, he added that, in general, telcos were behind other sectors in terms of AI investment and were at risk of being left behind.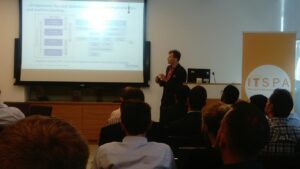 ITSPA Summer Forum Sponsors

Sangoma Technologies Corporation is a trusted leader in delivering globally scalable Voice-Over-IP telephony systems. Serving customers in over 150 countries, Sangoma delivers the industry's best engineered Unified Communications solutions. Our products are backed by decades of IP communications experience, and comprehensive warranties.
As the communication landscape evolves and businesses invest in new strategies to provide effective communications, Sangoma Technologies is your trusted partner; delivering Unified Communications solutions for SMBs, Enterprises, OEMs, Carriers, and service providers.
Sangoma's globally scalable offerings include both on-site and cloud-based business communication systems, SIP trunking, IP Phones, Gateways, Session Border Controllers and Telecom Interface Cards. Together, these provide seamless connectivity between traditional infrastructure and new technologies. Businesses can achieve enhanced levels of collaboration, productivity, and ROI by partnering with Sangoma.
Everything Connects When You Connect with Sangoma!
Founded in 1984, Sangoma Technologies Corporation is publicly traded on the TSX Venture Exchange (TSX VENTURE: STC).

The Group's mission is to design, manufacture and supply innovative and high quality products in a manner that minimises any impact on the environment, while creating sustainable value for its stakeholders and the community.
With headquarters in Hong Kong and state-of-the-art manufacturing facilities in mainland China, VTech has approximately 26,000 employees in its operations across 13 countries and regions, including about 1,600 R&D professionals in R&D centres in Hong Kong, mainland China, Germany, the US, Canada and Taiwan. This network allows VTech to stay abreast of the latest technology and market trends throughout the world, while maintaining a highly competitive cost structure.
Our line of hotel phones leverages this expertise and resources—catering specifically to the hospitality market while providing clear cost and feature benefits. Our customers count on us to design, manufacture, deliver and support the world-class SIP telephony products that help them enhance their guest experiences.
VTech invests significantly in R&D and launches numerous new products each year under its portfolio of strong brands, supported by a global distribution.
Shares of VTech Holdings Limited are listed on The Stock Exchange of Hong Kong Limited (HKSE: 303).
Polycom helps organizations unleash the power of human collaboration. More than 400,000 companies and institutions worldwide defy distance with secure video, voice and content solutions from Polycom to increase productivity, speed time to market, provide better customer service, expand education and save lives. Polycom and its global partner ecosystem provide flexible collaboration solutions for any environment that deliver the best user experience, the broadest multi-vendor interoperability and unmatched investment protection.
Visit www.polycom.com or connect with us on Twitter, Facebook, and LinkedIn to learn more.