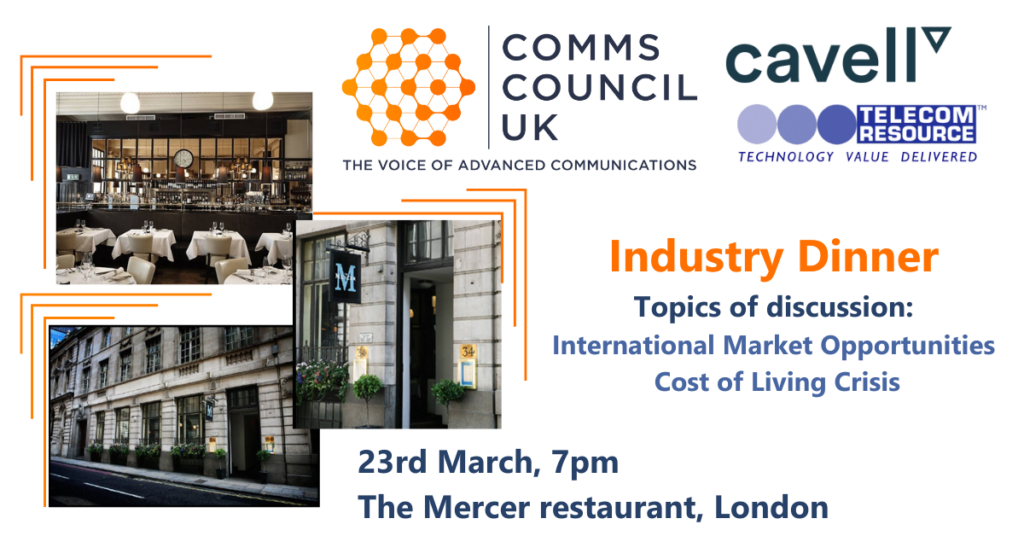 This event is kindly sponsored by
Our annual industry dinner with Cavell Group took place on Thursday 23rd March from 7pm at the private room of The Mercer restaurant at 34 Threadneedle Street, London, EC2R 8AY.
The topics of discussion was the International Market Opportunities - Are Barriers to Market Entry Dissolving; and Cost of Living Crises and how it affects our industry.
The cloud communications industry has experienced significant growth in recent years, providing ample opportunities for service providers to expand their business globally. While barriers to entry, such as regulatory compliance and market fragmentation, still exist in some regions, advancements in technology have significantly reduced these obstacles. Cloud communications service providers are now able to leverage cloud-based platforms to offer scalable and cost-effective solutions, driving greater demand and growth in the industry. As such, businesses in this sector should remain vigilant in identifying emerging market opportunities while carefully navigating the ever-changing landscape of regulatory and compliance requirements.